Get Involved
Although the Section does have a small staff team to provide support for the day-to-day activities, we are still member driven. That means much of what the Section offers to members is created by other members volunteering their time and expertise.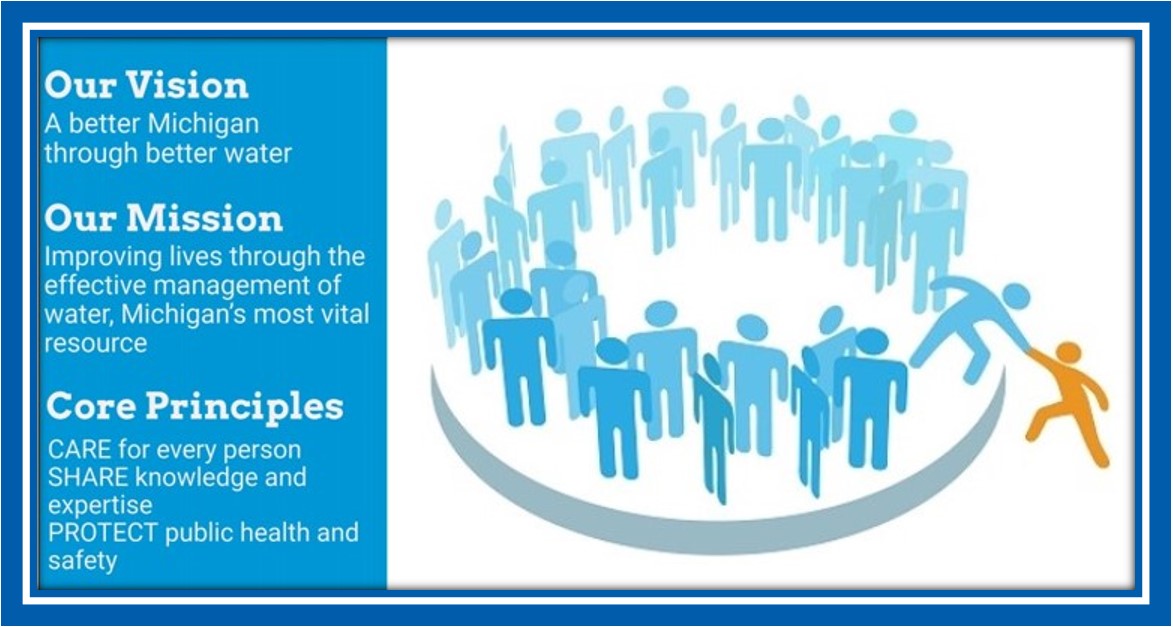 There are a number of ways to get involved. Extra hands are always needed.
Water Works News writer/reviewer - volunteers write articles and act as proof readers before issues go to press. You can write an article (technical or otherwise) or volunteer to act as one of the reviewers.
Work MI-ACE or Joint Expo - volunteer to work the registration desk or some other aspect of the conference or expo.
Moderate or Host an event - help check in and welcome attendees, introduce speakers, and monitor chat and Q&A.
Click Here for more information about short-term volunteering opportunities (COMING SOON).
Not quite sure what you want to do? Review the Council and Committee Descriptions here. Complete the volunteer interest form to let us know that you're interested and we'll help you find the best fit for you.
There are always a number of groups, projects, and activities going on in which to get involved.
The Virtual Volunteer Orientation is designed to orient all new Michigan Section volunteers to the larger American Water Works Association as well as the Michigan Section structure, and provide information on the Section's Strategic Plan, partnerships, and how to get the most out of volunteering.
Ready for a leadership role? Click here for descriptions of the roles and responsibilities of volunteer leaders in the Michigan Section.
Want to know more or have questions? What interests you? Tell us what you would like to do. Complete the form (link below) or contact a membership representative and we can get you connected.
---
Please click here to fill out the Volunteer Form.
If you would rather speak with us directly, please call Erika at 517-292-2912 x 105 or email erika@mi-water.org.
---
Networking & Mixers
The Section offers members opportunities throughout the year to network with other water professionals.
YP Tours and Mixer Events - hosted by young professionals, all are welcome to attend these events.
Annual Golf Outing - co-locating with the Michigan Section's Annual Conference & Exhibits, the Golf Outing raises money for Safe Water in Ecuador and for scholarship programs.
Check out all the upcoming networking opportunities here.