Back to Events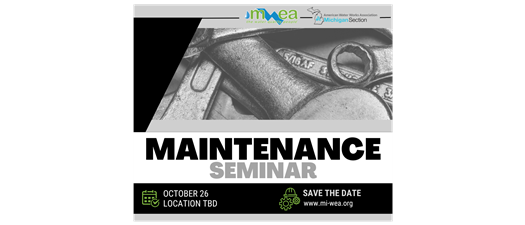 MWEA and MI-AWWA Maintenance Seminar
Thursday, October 26, 2023
Event Details
Attend This Seminar to Learn About:
Routine Electrical Maintenance
Instrumentation and Controls Troubleshooting
Empowering Safety: Electrical Best Practices for Water and Wastewater
Professionals
Variable Frequency Drives (VFDs) Explained
Hands-on Demonstrations
Demo A: Motor Control Basics Components
Demo B: Control Panel Components
Demo C: Control Signal Types and Instrument Calibration
And more!
ATTENDEE COST:
MWEA/WEF Member - $180
Non-Member - $280
CECS:
WW Course Code: 3031
DW Course Code: 2745
0.6 Technical WW and DW CECs pending agenda approval from EGLE
Download Agenda
For More Information:
Michigan Water Environment Association
5815 Executive Drive
Lansing, MI 48911
(517)641-7377
In collaboration with industry experts, this seminar is designed to empower water and wastewater professionals with the knowledge and skills needed to excel in Electrical Maintenance. Whether you're a seasoned professional seeking to refresh your expertise or a newcomer looking to build a strong foundation, this seminar has something for everyone.